Online Customer Portal checkinsite
Clear access to shipping documents and daily updated overview of your construction site.
Several shipments of materials are at the construction site, one additional supply has been ordered, while other material has already been picked up. The delivery notes and returns are stacking up. How much rental material is actually located on site? This is a question that comes up repeatedly and can only be resolved with time-consuming research and rechecking. Or with a few mouse-clicks instead.
The online customer portal "checkinsite" from PASCHAL makes it possible.

Always up-to-date
Access to up-to-date site related shipping documents and inventory.
Archive of active and completed construction sites
With time, this creates an indispensable archive with a reporting capability for active and completed construction sites by referencing the ordered goods, while also providing up-to-date real-time documentation, flow of materials and materials lists.
Clear history of each construction site
Providing a real-time and up-to-date comprehensible overview of the site organization, cost structure and the equipment in use.
Free of charge




This service was developed by PLANITEC, the PASCHAL IT subsidiary.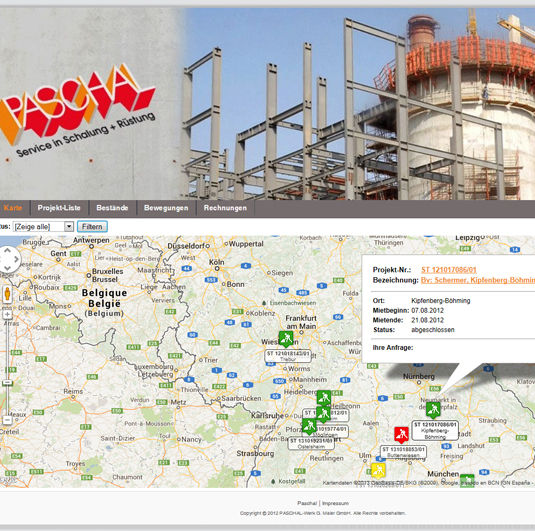 Map with geographical distribution of individual construction sites (Green: completed project, Yellow: ongoing project whose end of rental period has not yet been reached, Red: ongoing project which has exceeded the specified end of rental period)