PASCHAL is committed to quality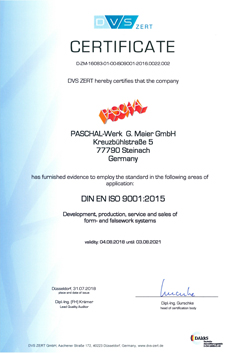 Customer value and customer satisfaction are a part of our quality philosophy. PASCHAL quality management is certified in accordance with DIN EN ISO 9001:2008 in order to improve process control internally and externally on an ongoing basis. The ISO 9001 quality management standard forms the basis for the continuous process of improving the company's quality.

The requirements on the quality of products and services are fulfilled, transparency of the operational procedures is ensured and therefore a higher level of customer satisfaction is achieved. Regular inspections result in an obligation to improve our level of quality continuously; we are always striving to optimise our own company performance. We and in particular you, the customer, benefit from this..