Our quality requirements
The highest level of quality for your satisfaction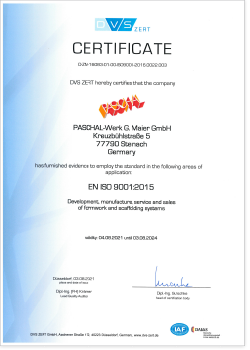 PASCHAL products are well known for their outstanding quality. A great deal of attention is paid to the functional design, the choice of high quality materials and the best level of manufacturing quality in both the company's highly differentiated product range and its range of innovative new developments. This results in formwork, equipment and accessories that are characterised by their very easy handling and extremely long service life: Formwork panels from PASCHAL prove themselves by being used up to several thousand times, and thus provide a particular degree of security of investment, alongside successful construction processes.
Certified in accordance with DIN EN ISO 9001:2015
The PASCHAL quality management system is certified in accordance with DIN EN ISO 9001:2015 and is continually updated. Furthermore, the PASCHAL brand stands for an internationally binding level of quality assurance; this also results from PASCHAL being a founding member of the German Quality Protection Association for Concrete Formwork (Güteschutzverbandes Betonschalungen GSV e. V.).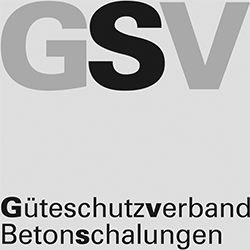 Founding member of "Güteschutzverbands Betonschalungen e.V."
The "Güteschutzverband Betonschalungen e.V." Quality Protection Association Concrete Formwork was founded in 1992. PASCHAL is a founding member of this association.
The principal aim of this association is the promotion of partnership between customers and suppliers of
concrete formwork as well as development and quality assurance in formwork technology. The members of this association are well-known formwork companies and a number of contractors from Germany, Austria and Switzerland.
In accordance with the strategic aim of the association, regulations and standards for construction, assessment and use of concrete formworks are developed and published. The collaboration in defining standards at national and international level is of special significance.
PASCHAL stands for quality in concrete construction
The PASCHAL teams that are active all over the world in cutting-edge construction work possess a comprehensive level of expertise that is decisive for successful application in modern concrete construction. PASCHAL knows the requirements of modern concrete constructions, right down to the smallest details. The highest demands in terms of customer benefits and future sustainability are placed on PASCHAL's new developments. The high level of quality of PASCHAL's products and services is ensured in the long-term through the consistent support of our employees with regular training and further education programmes.