PASCHAL-Plan Pro (PPPro)
CAD software for preparing civil engineering work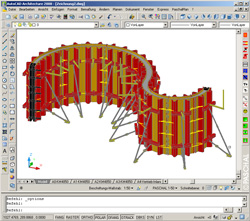 PASCHAL-Plan Pro was developed on the basis of AutoCAD "architecture" and is suitable for planning formwork for highly complex applications, with the result that even the most difficult specialised cases can be solved.
Floor plans can be entered into AutoCAD or can be read in from existing drawings. PASCHAL-Plan Pro can also accept and process formwork plans created in PPL.
The "intelligent" system is interactive and only provides correct solutions: Formwork panels and accessories can thus only be placed in the positions provided for them. The connecting and clamping devices required can be calculated automatically.
The best representation for every purpose
Simple and clear 2D drawings containing only the most important information for erecting the formwork can be created for the construction sites. Detailed representations in 3D show the arrangement of panels and accessory parts in precise detail. With PASCHAL-Plan Pro, you can also create and output coloured graphics for presentations and thus visualise your projects in an impressive manner.
Interfaces
PASCHAL-Plan Pro supports the most important formats, e.g. DWG, DXF and IFC interfaces.
Just like PPL, it goes without saying that PASCHAL-Plan Pro is also BIM-enabled.
Find additional information about PPPro at:
www.planitec.com
Request Documentation
Request a Quote

Order online now