Concrete parting compound from PASCHAL
For easy separation of formwork and concrete
PASCHAL carries various parting compounds that allow easy separation of the formwork from the concrete during dismantling.
With good maintenance and parting compound treatment, the formwork panels last longer and guarantee the qualitative requirements for the concrete components to be produced.
For optimum results, the formwork oil is applied thinly and evenly to the clean, dry formwork using a formwork oil pistol. With special applications, always test the product before use.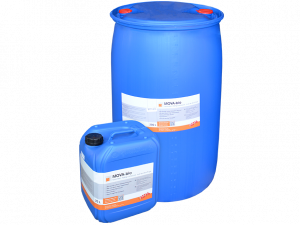 MOVA-bio - formwork oil in organic quality
The MOVA-bio concrete parting compound is particularly sustainable, as it is based exclusively on renewable raw materials. It is suitable for all types of compaction and concrete consistencies.
| | |
| --- | --- |
| Raw material base: | specially additivated, renewable basic materials |
| Colour and delivery form: | clear, yellow liquid |
| Density (at 20 °C): | 0.89 ± 0.02 g/cm³ |
| Processing temperature: | minimum 0 °C (preferably 20 °C ± 5 °C) |
P300 parting compound
Low hazard to water sources WGK 1 (German Water Hazard Class), readily biodegradable
| | |
| --- | --- |
| Form: | liquid |
| Odour: | mild |
| Pour point: | -21°C |
| Flashpoint: | +160°C |
Request Documentation
Request a Quote

Order online now