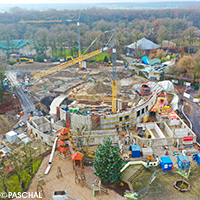 13.04.2023
PASCHAL: the first choice for the construction of the new tropical hall
Steel-reinforced concrete foundations and walls for the spectacular Meranti Hall in Münster were formed using formwork from PASCHAL.
The tropical hall is the highlight of a visit to the all-weather zoo in Münster. "Meranti" is the name given to the genus of tropical hardwood and stands as a reminder of its endangered status.
Once the old tropical house had been demolished and the 34 geothermal probes had been placed to a depth of 250 metres, the building construction could commence.
PASCHAL became involved in the project with its long-standing partner, Elvermann GmbH from this point onwards.
The gross floor plan area of the tropical hall is 4,700 m². This includes the hall itself, conference rooms, the zoo shop and the basement, which houses the utilities rooms, among other things.
The newly constructed total area covering 13,000 m² includes several levels with a tower, bridges, water and plant basins and provides the tropical world with a permanent home in Münster.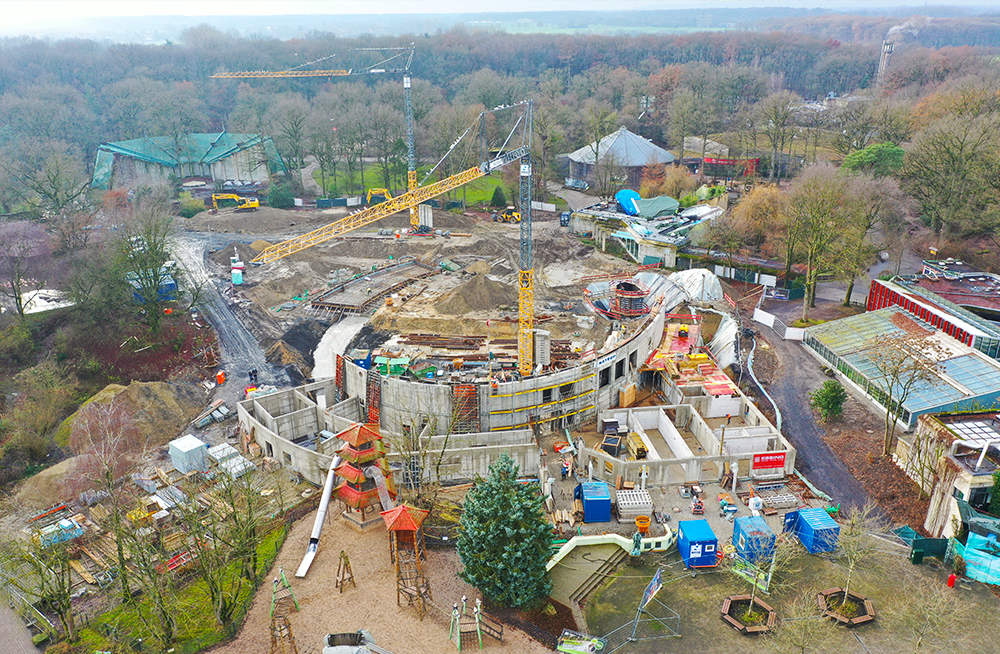 Due to the fall of the ground, the wall of the hall was formed with LOGO.3 at heights ranging from 4.50 m to 7.50 m.
Modular formwork and LOGO.3 formed the reinforced concrete
The reinforced concrete work was carried out by the regular customer, Bauunternehmung Natrup GmbH, from Münster. Natrup GmbH used the Modular universal formwork to form the various building foundations according to the formwork plans of Elvermann GmbH.
All reinforced concrete walls were formed with 300 m² of the LOGO.3 wall formwork system. The oval outer wall was also polygonally formed with LOGO.3 and hinged corner posts.
On the southern wall section, which is equipped with concrete core activation, the reinforcement was first installed on one side of the wall, then the pipe coils were laid and the further reinforcement was installed and the formwork closed.
The total outer wall area is around 1,100 m² and was formed in 16 phases using LOGO.3. Due to the topography, the top of the wall reaches heights of 4.50 m to 7.50 m.
The special foil roof, whose supporting framework consists of 300 t of round steel, is founded on the 35cm-thick outer wall.