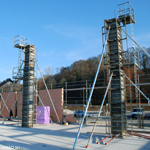 02.05.2012
The Columns of the Market
Quick Grip column formwork accelerates hall construction for the supermarket.
Foldable PASCHAL column formwork Grip is a strong alternative to precast concrete parts.
The difference between a wall and a column formwork was never before as great as it is today when it comes to forming concrete pillars.
Modern wall formworks have high, narrow multi-elements, on the sides of which another multi-element is fastened at right angles. This is how concrete pillars with rectangular and square cross-sections arise.
Column frameworks have that too-and persuade with technical advantages.
Kenzingen (Emmendingen County, Breisgau)
In mid September 2011, the Singler Construction Company (Hofstetten) began erecting a 35.30 m wide, 74.50 m long, and up to 9.12 m high hall on newly reclaimed land. The shell, in which a grocery market of a well-known company chain is to be opened until Easter, should be completed by February 2012.
The awarding authority is Günter Lehmann GmbH (Karlsruhe); the architectural firm and site management Müller + Huber (Oberkirch) established the schedule in close cooperation. No bad-weather days were scheduled for despite winter.
Now Kenzingen is just 25 km as the crow flies from Germany's warmest community; nevertheless pressure is intense on the awarding authority. It's compelled to implement the most efficient processes.
Shell construction and concrete tasks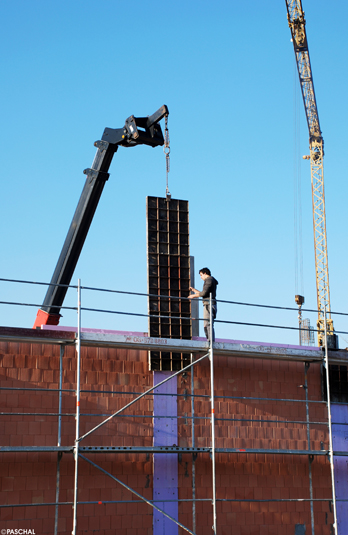 Almost 30 rooms are to be added next to the large market hall. These include refrigerators, freezers, and returnables storage, all at ground level; staff rooms built on the first floor; and a driveway for heavy lorries. Counters and other areas will receive additional floor insulation so that several foundation levels were needed to ultimately form a single large flat surface. The footings, built with proprietary Modular universal formwork, are double reinforced and consist of C25/30 concrete.
The walls are mostly brick. The pillar-shaped block outs kept free were grouted in front with Modular universal formwork and subsequently concreted. So that's how reinforcing columns arose in the simplest manner.
The roof is 5.10 m at the eaves and 8.20 m high at the ridge. It's supported by fishbelly girders. These in turn sit on a total of six concrete columns, each 8.00 m high and 50 cm x 60 cm, that are fork-shaped on top.
Efficient formwork and shoring
Due to the immense time pressure, it was decided to rent three sets of Grip column formworks. Each set consisted of two formworks each 3.40 m high as well as a 1.5 m high stacking element so that an ideal formwork height of 8.30 m was achieved for the 8.00 m concreting height.
Since the Grip carries their 80 kN/m² fresh concrete pressure with no problem, it was possible to select a suitable concreting speed. The fresh concrete was brought in with the hose and a concrete pump and three sets of formworks were filled in sequence, each in one pour. The external vibrator was used on the base. The internal spud vibrator was deployed in the upper areas. The concreting procedure lasted exactly one quarter hour. All of the concrete tasks took only half an hour per column. A wooden 'block out' was pressed into the concrete and secured against floating shortly before completion of the concreting to achieve the forked shape.
A fast setting, high quality C25/30 concrete was used due to the weather, which threatened with frost.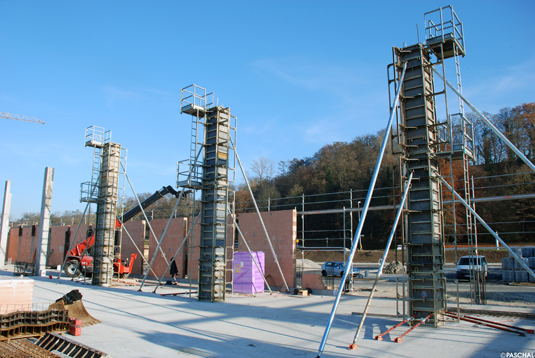 Three sets of GRIP column formworks were simultaneously in use. Continuous, fixed ladders and a work platform facilitate and accelerate the work and significantly increase safety.
Grip column formwork
Grip column formwork comes complete with straightening braces and work platform delivered to the construction site. A rustproof steel ladder is mounted securely so that the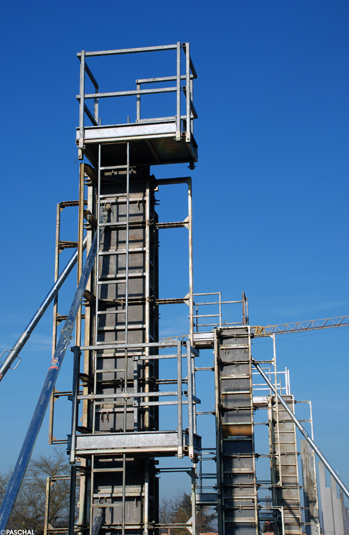 system offers the greatest safety and the best operating convenience, facilitating and further accelerating the work. The adjustment range is 20 cm to 60 cm in 5 cm increments, rectangular or square, without replacing the formwork facing. To open the formwork, it's sufficient to open the clamping device on a single side. The formwork can be folded out thereafter and moved to the next location with a single crane motion. With a conventional solution of wall formwork elements, about two to three times the time actually used would have been needed for setting, dismantling, and moving each, but without achieving the Grip's level of safety and comfort. The column formwork has paid off quickly in this respect. 'That wasn't half bad', said foreman Alfred Ketterer with a wink, delivering his opinion about it. And he'd order it again any time.
The 21 mm thick plywood facing made of Finnish birch is plastic-coated and is best suited for exposed concrete requirements. The Grip can simply be folded together to save space for transport.