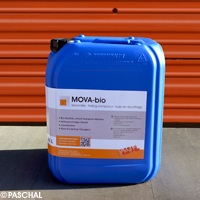 09.06.2023
New concrete parting compound in organic quality
The sustainable concrete parting compound MOVA-bio fulfils high environmental standards, is biodegradable, and suitable for both absorbent and non-absorbent formwork.
PASCHAL is expanding its product portfolio with a new solvent-free concrete parting compound for pre-fabricated, in-situ or civil engineering.
MOVA-bio is based on renewable raw materials and can be used for all formwork systems.
Sophisticated exposed concrete surfaces
It is especially important to use a parting compound on exposed concrete surfaces, but its use is also required at sensitive points such as cut-outs, edges, or undercuts. For this reason, the right parting compound is a decisive factor in the reliable completion of optically sophisticated concrete surfaces.
The new MOVA-bio is ideally suited to producing clean, exposed concrete surfaces that are free of flecks and cavities.
Longer service life for your formwork
A well-maintained formwork treated with parting compound lasts longer and guarantees the qualitative requirements on the concrete components to be produced. This not only extends the service life of the plywood, but also that of the entire formwork – because the parting compound also acts as corrosion protection. Paint coating and plywood are also protected by using MOVA-bio.
Simple processing with high requirements on environmental compatibility
Special additives ensure easy dismantling and good corrosion protection, as well as cleanliness of the formwork.
Due to its environmental compatibility, simple processing, and outstanding results with exposed concrete, the parting compound can be used in a variety of applications, and is also ideally suited for use in water protection areas or particularly sensitive environmental areas.
Because MOVA-bio was co-developed by PASCHAL, it combines the best properties of any parting compound on the market and works perfectly with PASCHAL products. MOVA-bio is exclusively available from PASCHAL.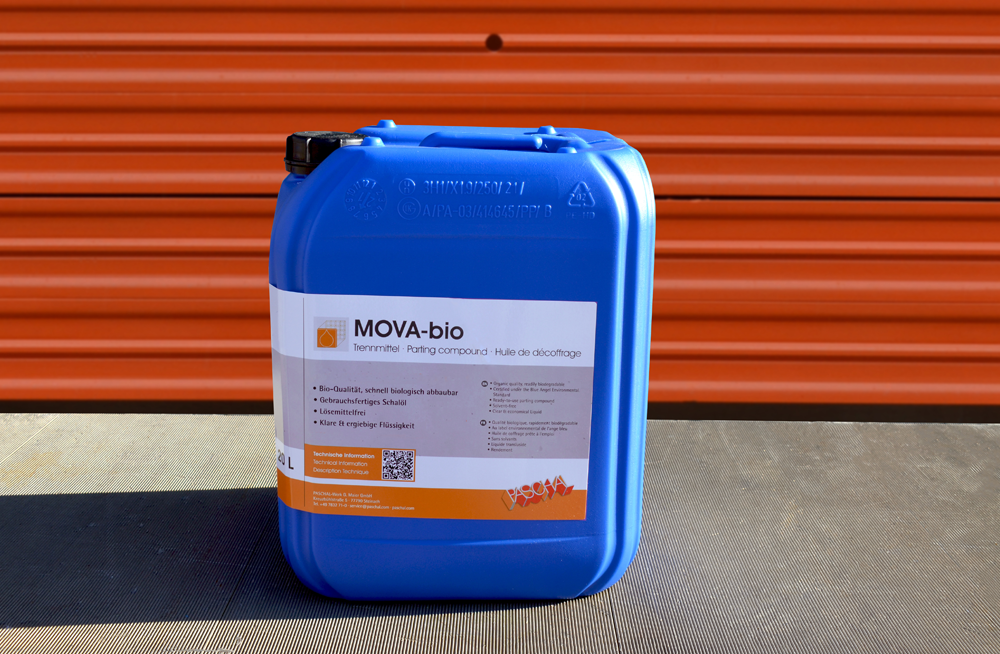 The sustainable concrete parting compound MOVA-bio fulfills strict requirements on environmental compatibility, and is suitable for all sealing types and concrete consistencies.