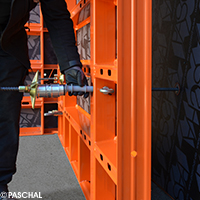 24.10.2022
New LOGO.pro panels complement the product range
PASCHAL is expanding the LOGO.pro wall formwork range with the panel height of 340 cm for even faster forming of large areas.
For almost three years, LOGO.pro wall formwork with one-sided anchor technology has been significantly optimising time and cost expenditures on the construction site with impressive results.
In order to further optimise the panel sorting of the LOGO.pro, the product portfolio has now been expanded to include the new panel height of 340 cm.
Saving time and money
The continuous formwork panels with a height of 340 cm offer the advantage of being able to shutter even larger wall heights without the additional extension of segments or needing only two panels to reach a height of up to 6.80 m, for example.
Due to the large dimensions, there are fewer panel elements per wall surface and therefore also fewer accessories — and in particular connecting parts — to be mounted. This significantly reduces not only the shuttering times, but also the cost of the materials used.
In addition to the new large-size panel 240 x 340 cm, the LOGO.pro formwork panels are available in panel widths of 135, 90, 75, 60, 45 and 30 cm as well as matching inside and outside corner posts.
LOGO.pro with a clever changing system allows one-sided and two-sided anchoring
At the heart of the LOGO.pro formwork system are exchangeable sleeves made of steel. The guide bushings built into the formwork are equipped with a conical access opening in the appropriate diameter for DW15 and DW20 tie rods. This means that the classic type of two-sided anchoring is possible. To change over to one-sided anchoring, the guide bushings on the side of the adjustable formwork are merely replaced with clamping units.
Both anchor variants use standard material. Cladding tubes can also be selected as required. With these features, LOGO.pro not only provides optimised processes requiring less personnel and facilitating work in confined spaces, it also boasts impressive simplicity and cost efficiency.