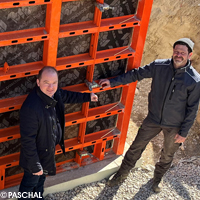 13.10.2022
Longstanding PASCHAL customer invests in LOGO.pro
With the purchase of the LOGO.pro wall formwork with one-sided anchor technology, new construction projects will be implemented quickly and cost-effectively.
In the first quarter of 2021, the first LOGO.pro wall formwork was sold to one of its regular customers, the construction company Josef Frauenknecht GmbH, via PASCHAL's trading partner Mack GmbH in Burgheim. Mack GmbH was supported in this regard by PASCHAL consultant Herbert Bliemetsrieder, who has been assisting Josef Frauenknecht GmbH for many years.
"We are delighted that the Frauenknecht company continues to trust in our cooperation and that the durable and extremely economical formwork systems from PASCHAL are used here," emphasised Managing Director Bernhard Mack.
Around 120 m² of formwork — consisting of different panel widths with a panel height of 270 cm and matching corner panels and accessories — made its way to Eurasburg in March 2021.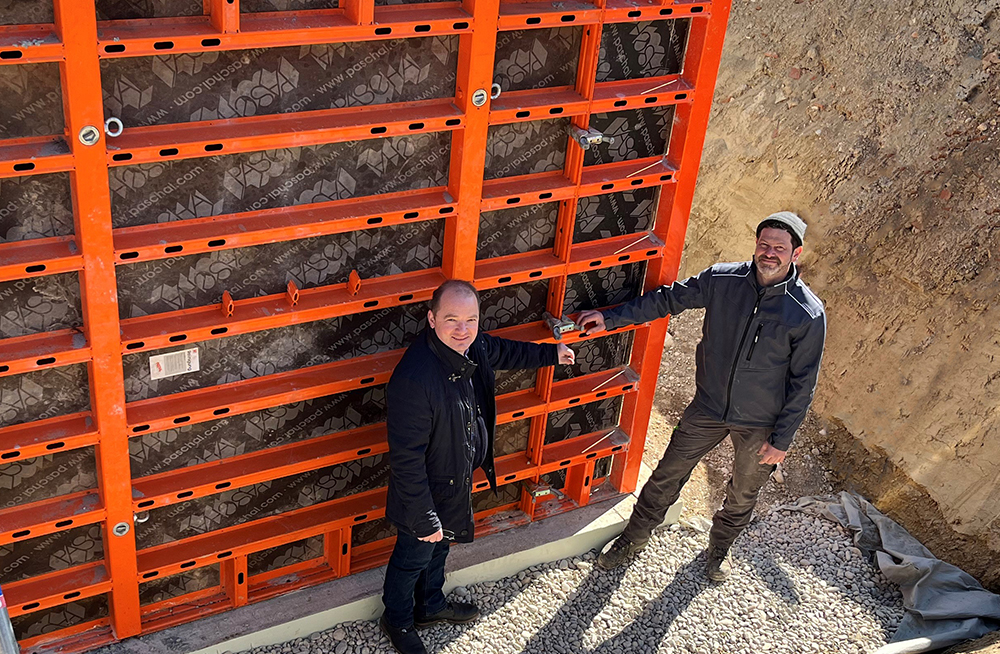 Raphael Frauenknecht, managing director of Josef Frauenknecht GmbH (right) together with Bernhard Mack, managing director of Mack GmbH.
For more simplicity and cost-effectiveness
Josef Frauenknecht GmbH has been using LOGO.3 wall formwork from PASCHAL for more than 20 years and wanted to supplement it with a new formwork. The LOGO.pro wall formwork is perfect for this, as these formwork panels are compatible with all LOGO.3 system components.
However, the new LOGO.pro also offers the construction company additional advantages, such as one-sided anchoring of the formwork even in extremely cramped spaces.
"By not using protruding connections for the formwork panels, we can also overcome bottlenecks more easily. At the same time, we hope that this purchase will save us time and money in the future," says Raphael Frauenknecht, managing director of Josef Frauenknecht GmbH.
The purchased panel dimensions were chosen so that future construction sites (mainly single and multi-family houses) can be managed quickly and inexpensively.
In order to optimise the logistical processes, Josef Frauenknecht GmbH also manufactured a roll-off platform specially tailored to its needs, including stacking boxes for small parts. In combination with the advantages of LOGO.pro wall formwork, nothing should stand in the way of a time-optimised realisation of new construction projects.
LOGO.pro in use as formwork
LOGO.pro has been tested in several applications for more than a year now. It was also used in the construction of a larger single-family home with a lift and double garage in Dasing.
The existing LOGO.pro panel sizes from 270 x 240 cm to 270 x 30 cm were used for the formwork in the basement — the formwork was built in four cycles.
A special requirement was that the concrete surfaces should remain visible throughout the interior and not be plastered over.
As with LOGO.3 wall formwork, LOGO.pro allows high demands on the concrete surface to be met, as only an extremely narrow frame imprint remains in the concrete.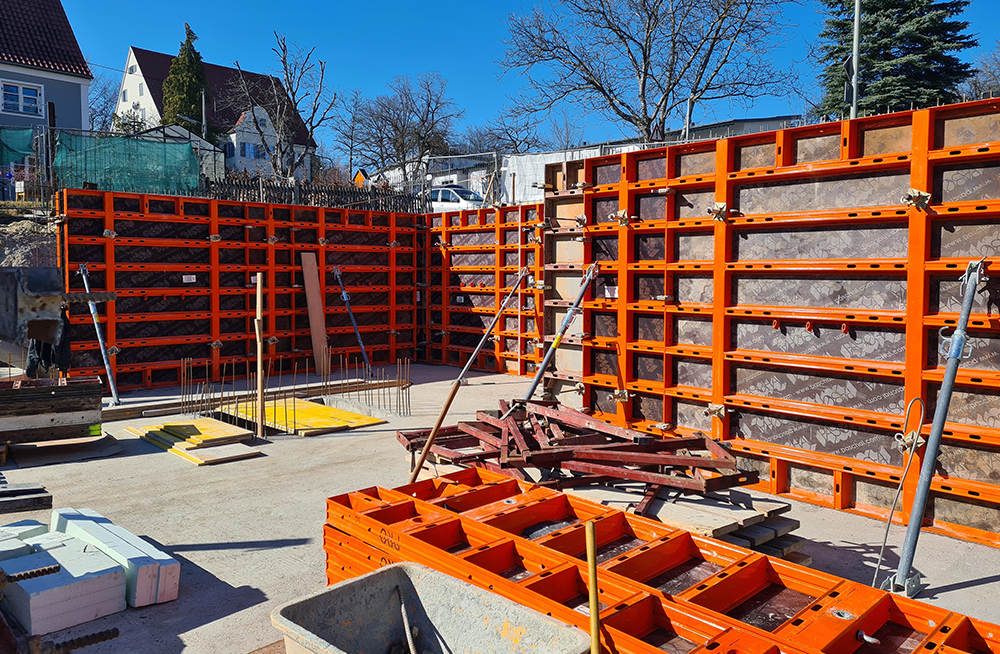 LOGO.pro was used for the formwork in the basement of a single family home.

More than just one-sided
The LOGO.pro wall formwork system can easily be converted from double-sided to single-sided anchoring using a sophisticated changing system.
The default version of LOGO.pro formwork supplied has integrated guide bushings — enabling the formwork in delivery condition to be assembled straight-away as normal LOGO formwork.
After quickly replacing the guide bushings with clamping units in the adjustable formwork, the formwork panels can then be used as formwork that can be operated from one side, and the tie rod can be turned completely from the closing formwork with the cladding tube and plate with ball-and-socket joint. The anchor technology can be converted for all LOGO.pro panels.
Both anchor variants also use standard material. Cladding tubes can also be selected as required. With these features, LOGO.pro not only provides optimised processes requiring less personnel and facilitating work in confined spaces, it also boasts impressive simplicity and cost efficiency.