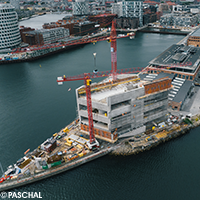 14.07.2023
The eye-catching headquarters of the BIG Group in Copenhagen
PASCHAL is once again in demand as a formwork and scaffolding specialist for the Bjarke Ingels Group project in cooperation with LM Byg A/S.
Internationally active architect's office opens its own corporate headquarters. Bjarke Ingels Group, often abbreviated to BIG, is a group of architects, designers and project managers based in Copenhagen and New York who work in architecture, urbanism, research and development.
The headquarter highlights:
exposed position
eye-catching building shape and construction
built using a new type of concrete with a 30% reduced carbon footprint
formed with quality formwork from PASCHAL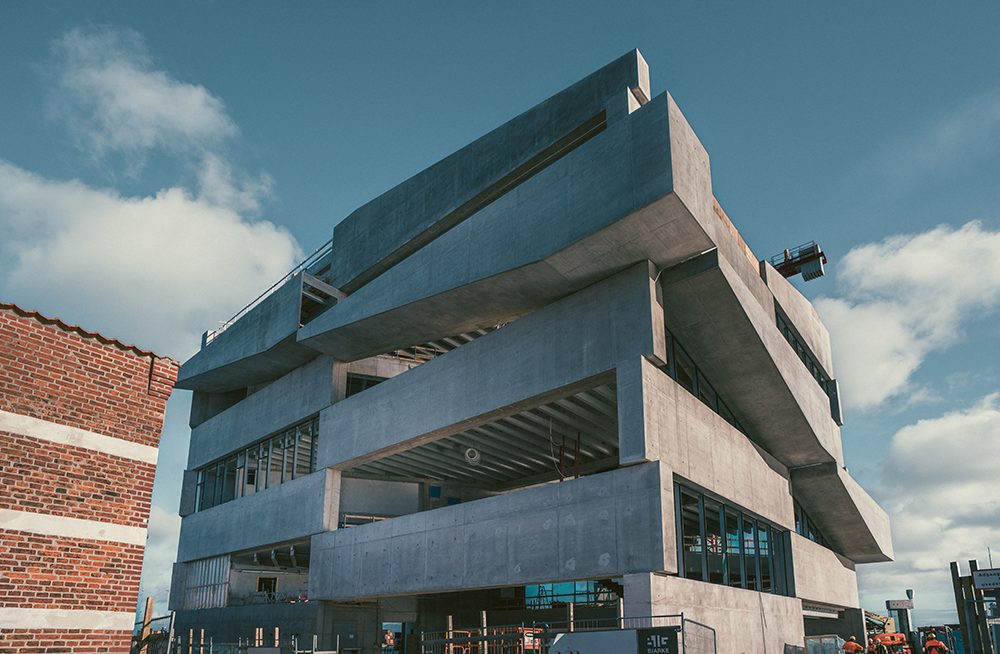 The eye-catching headquarters of the BIG group in Copenhagen.
The future corporate headquarters in Copenhagen
The 7-story office tower with a height of 27 m and 4,800 m² of office space is being constructed at the top of the Sundmolen in Nordhavn.
Concrete and glass dominate the trapezoidal office building. The facade is an interplay of closed, load-bearing concrete elements and transparent glass surfaces. At the same time, the structure is enclosed by an exterior staircase that connects the floors right up to the roof and has alternating floor balconies.
The interior of the building features vertical and horizontal reinforced concrete structures grouped around a central natural stone column, which is the central element supporting the floor slabs.
The proven combination of in-situ concrete and PASCHAL formwork
The PASCHAL customer, Pihl Consortium, used 800 m² of the LOGO.3 wall formwork system, 12 climbing systems 240 and 200 tonnes of scaffolding, supplementary and connecting materials to form beams, wall structures, the lift shaft and the staircase structures inside and outside. The formwork for these demanding tasks was implemented swiftly as planned.
The building structure is dominated by load-bearing in-situ concrete mega-beams. The beams have a sandwich construction with a load-bearing back wall, insulation and a thin back wall and front surface with a fair-faced concrete look.
The formwork and scaffolding was planned by PASCHAL-Danmark A/S in coordination with LM Byg.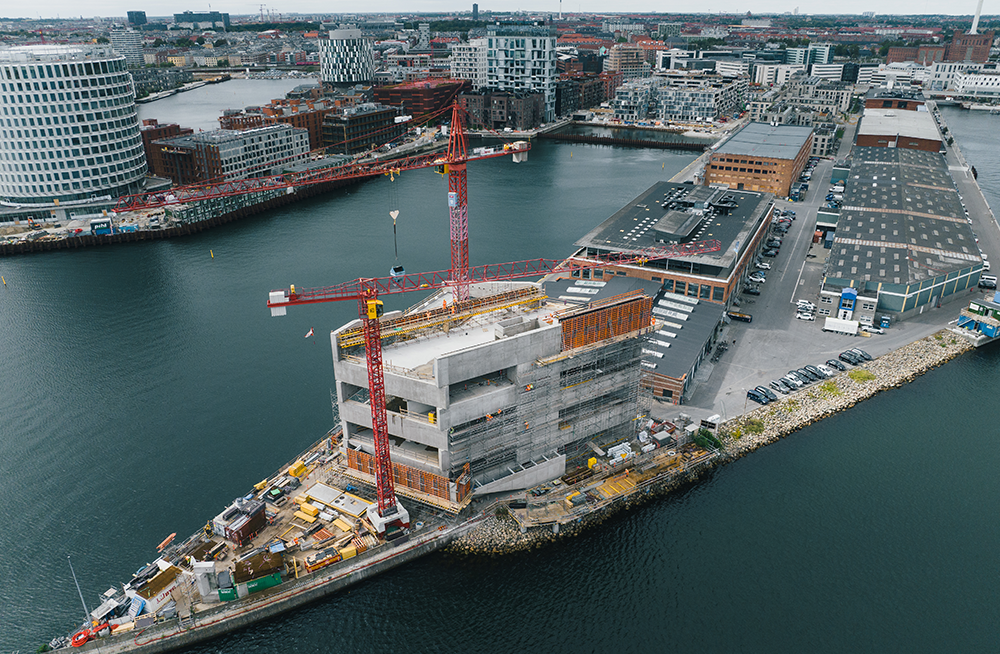 The LOGO.3 wall formwork in use during the construction of one of the mega-beams, combined with the climbing system 240.
DGNB certification is part of the concept
In order for the corporate headquarters in Copenhagen to be DGNB-certified, there are several measures needed. Starting with the structure foundation. It includes new types of concrete piles with cast-in pipes for use in geothermal heat and year-round building climate control.
The use of FutureCem-based cement significantly reduces the carbon footprint. This is made possible by the modified cement formulation, which is now no longer based on limestone alone but contains calcined (i.e. burnt) clay. This makes it possible to drastically reduce the energy consumption of cement manufacturing.