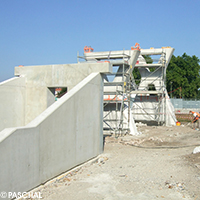 15.11.2018
Reinforced concrete structures for a footbridge measuring about 98 meters in length have been constructed using PASCHAL formwork.
The Haguenau footbridge rests on 4 piers and 2 abutments of reinforced concrete, built using PASCHAL formwork systems.
The entire structure was designed by NEMO, an architect's office. All of the construction work was to be completed in accordance with the overall construction schedule for 2020.
A bridge that links the downtown center to its suburbs
Whenever secured (transportation) links are built, PASCHAL is always there. Just as it was when a footbridge measuring almost 100 meters in length was constructed to enable pedestrians to cross railway tracks safely. Since its completion, this structure has provided a safe and convenient link between suburbs and the downtown area. Travellers coming from both directions, from the downtown area and from the suburbs, can gain direct access to the platforms via intermediate stairways and using 4 barrier-free elevators, also protected from all kinds of weather.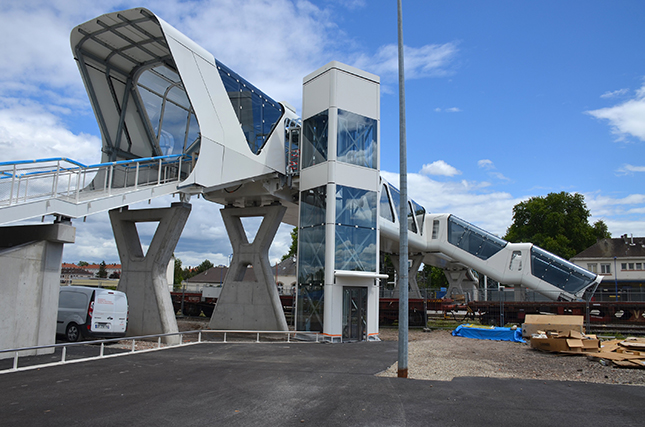 The modern connection structure at Haguenau, a short time before it was completed.
The steel bridge structure rests on 3 reinforced concrete piers, the Rue Moulin Neuf stairway rest on the 4th pier, all constructed with 2 PASCHAL formwork systems.
In order to support the fair faced concrete piers and to absorb loads safely and steadily, EIFFAGE only used 18m² of Modular universal formwork to form the foundations of the piers. This universal formwork is based on a modular design concept by PASCHAL involving the use of a formwork system that minimizes the need of on-site adaptations.
PASCHAL's formwork experts pay always attention to the concreting cycles. They ensure that the contractor is able to best execute the defined use of concrete employing a minimum of system components.
Universal formwork has passed the test more than one hundred thousand times on construction sites due to, among other things, PASCHAL's characteristic robust and durable steel framework.
All pier foundations with a thickness between 0.6 and 1.00 meters are constructed on bored piles with a depth of 10 to 15 meters.
Dimension of piers:
03: 4.77 x 3.4 m x 70 cm
P3: 5.98 x 4.32 m x 70 cm
P2: 6.03 x 4.32 m x 70 cm
P1: 6.03 x 4.32 m x 70 cm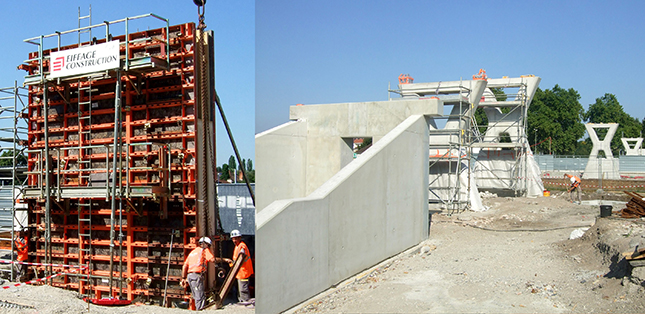 Smart and safe - visually attractive fair-faced concrete piers for the Haguenau footbridge. Built with 2 PASCHAL systems.
Above the foundations, the EIFFAGE construction company used the large-size LOGO.3 formwork system
About 150 m² of this formwork system was sufficient to build perfectly shaped reinforced concrete piers. It was easy for the construction company to execute the exterior shape of the piers with LOGO.3, using the Steinach formwork experts' formwork planning.
As the shape of the piers after dismantling demonstrates, various 'negatives' had to be combined with LOGO.3 in order to build the structures correctly. Here too, the functionality of the LOGO.3 formwork system was impressive, as evidenced by the quality of its completed structures in reinforced concrete.


Sectional view of all the foundations for the Haguenau footbridge.
Drawing: NEMO and INGÈROP Studio
2 abutments with engineering rooms
Both abutments with integrated engineering rooms were constructed in reinforced concrete too. Even though, in terms of design, a different shape was required than for the piers, these concrete structures were also built by using PASCHAL Modular and LOGO.3 formwork.
This illustrates the tremendous flexibility and compatibility of PASCHAL formwork systems.