Discover our all-round reliable formwork solution now
The TTK circular formwork from PASCHAL
Constructing round concrete structures is a task not frequently undertaken, especially for smaller construction companies, and can therefore be challenging.
For construction companies looking for an all-round reliable formwork solution, it is an excellent choice with its fully variable adjustment range and fast segment connection as well as perfect roundness and dimensional precision. Even less experienced construction teams can deliver top quality, especially in projects such as sewage treatment plants, water parks, towers, staircases, garage entrances or in landscaping and container construction.
Our free white paper gives you an overview of the most important advantages of our TTK trapezoidal girder circular formwork and offers exciting information about the flexible circular formwork system.
Download it now!
✓ Absolutely circular and dimensionally accurate: The ideal trapezoidal girder geometry provides superior support for formwork plywood, thereby achieving uniform roundness.
✓ Fast forming times: Thanks to the pre-rounded delivery, an extremely low number of tie points and the system's own plastic filler pieces, you can easily reach your goal faster.
✓ Innovative clamp connection technology: Thanks to the small number of connecting pieces, this enables very good forming times and a continuous height offset of the segments.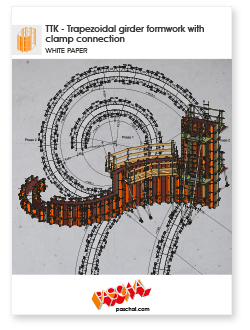 Focusing on your requirements: The perfect system for your success
Arrange an appointment in our virtual showroom today and receive a personal consultation from our formwork experts! We look forward to supporting you with your circular formwork challenges.