Software
PASCHAL software provides the necessary support for optimised formwork design and application. The software generates formwork plans and relevant material lists.
PASCHAL-Plan light - Automated Formwork Planning
The formwork planning and warehouse management software
PASCHAL-PLAN light (PPL)
supports every building contractor or planning engineer in large building firms so that the use of formwork can be planned to the very best and the site can be supplied in due time with the necessary equipment available in the warehouse.
For this reason, the new PPL version 10.0 now consists of two modules.
Complete formwork plans are created fully automatically with the 'Design' module.
You manage your entire building yard warehouse and current construction projects with the 'Warehouse' module
PASCHAL-Plan pro - Formwork Planning with AutoCAD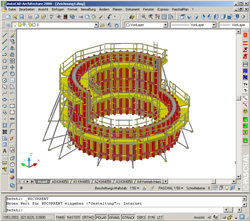 PASCHAL-Plan pro (PPP)
can handle the most demanding formwork projects. The application provides predefined elements, for which data has been prepopulated. That means that formwork elements can only be placed at correct positions, and relevant accessories can only be used at their predefined locations on the element. The software provides 2D and 3D views.